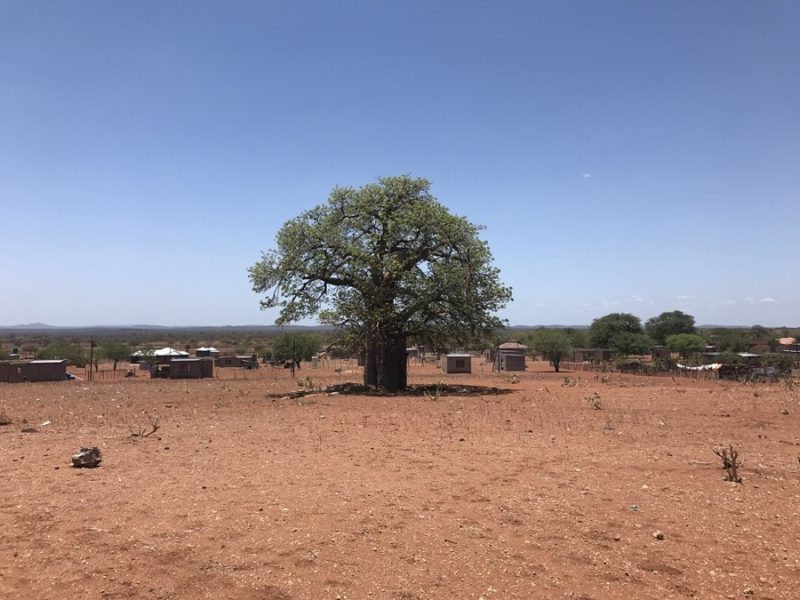 As a baobab ecologist, I've been concerned for a number of years at the dwindling number of 'new recruits' in baobab populations – that's ecologist-speak for when a new adult tree joins an existing population  – and that isn't happening with the frequency it should in our local baobab populations.  There are reasons for this which I talk about here.
So to offset this the Baobab Guardians program came about and using funds from generous donors, Baobab Guardians set about planting 50 new baobab trees. This time last year in November 2017 I thought we had achieved our baobab tree planting goal and we had a wonderful celebration.
But it seems that our tree planting initiative has ideas of its own!
Earlier this year, the South African cosmetic company AMKA approached me wanting to sponsor 10 new trees.  Some months afterwards, an American company LATHER  also wanted to sponsor an additional 12 trees. But our tree-planting project had come to an end!
It all came together when I was interviewed by Agence France Presse in October.  It so happened that Chief Phuravhathu of Mabvete Village in Venda saw the interview, tracked me down and asked me to please come and plant trees in his village!
New trees can only be planted in November so the timing all worked out perfectly and that's how 22 new baobab seedlings were planted in Mabvete last month.
I invited Sam Nephiphidi  to join me in the process. Sam is a retired forester and a community forestry expert having worked in this field for decades.  Together, we held a workshop for all those in the village who wanted to plant trees.


We taught about the importance of looking after trees, how to plant the baobab seedlings, and how to take care of them as they grow. They need at least 3 years of sustained care before they are mature enough to survive on their own in the wild. Each new Baobab Guardian was given a copy of the TsiVenda version of the book I wrote: The Little Big Baobab Book.


Sam taught everyone a clever watering technique using old 2 litre plastic soda bottles (like Coke, Fanta etc) which would otherwise be discarded.  By puncturing the base of the bottle with holes and then burying the bottle upright next to the tree so that only the neck and lid of the bottle protrudes from the earth, a watering funnel was created which delivers water straight to the roots of the plant where it is most needed.  The land is so arid with very little rainfall and this smart technique prevents water from running over the surface of the soil and being lost via evaporation in the sun.


One thing I've noticed working with many rural Venda Villages is that there's usually a huge amount of litter about, with plastic being blown about everywhere.  However in Mabvete, litter was noticeably absent. When I asked the headsman about this he repled: "No, no, no! If anyone litters here we fine them!"
Instead, as I walked around the village I noticed that everyone has piles of plastic bottles stacked up in the corner of their yards.  Once a month the chief arranges for the bottles to be collected and taken to a recycling centre.
Another unusual thing I noticed were newly planted trees everywhere I went. In this village of bare and barren sand,  Chief Phuravhathu is very focussed on tree-planting for his community.
There were new trees of all kinds ranging from indigenous fruit trees such as marula and munie, as well as mangoes, paw-paws and lychees.  I understood then how planting baobab trees fitted perfectly into his philosophy of rejuvenating the village environment through community tree-planting.
Apart from reusing old plastic bottles for watering new trees, I saw how residents filled them up with sand and by placing them in rows half buried in earth, used them as a way of demarcating property boundaries, or lining walkways and paths. I was so impressed with Chief Phuravhathu's strong  encouragement to reuse or recycle plastic.
And so I'm pleased to announce that I've extended the original target of 50 trees to 100. A huge thank you to our enthusiastic donors who have made such generous contributions and made our community work possible.  Watch this space!
Filed under: BAOBAB FOUNDATION, Baobab Guardians
Tagged with: #CultureOfCaring, Baobab conservation, baobab ecology, Baobab Education, Baobab tree, creating a culture of caring, The Little BIG Baobab Book