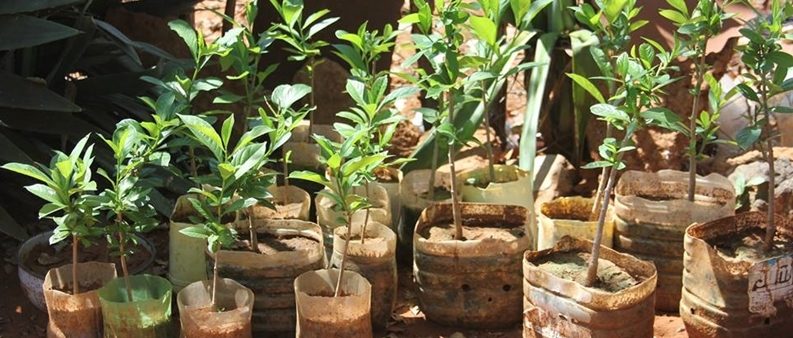 You may have read a previous post about a UK Company Sevenhills Wholefoods sponsoring 10 baobab guardians who take care of baobab seedlings until they are mature enough to survive out in the wild.
But we're delighted to tell you about two lovely women – Afke & Liesbeth – originally from Holland and now living in South Africa,  who have decided to sponsor a baobab guardian and their own baobab tree!
Why sponsor a baobab guardian? 
In their own words, here is what Afke and Liesbeth say about why they decided to sponsor a baobab tree:
"We decided to support Sarah's baobab planting scheme, after we saw the wonderful work that she does with baobabs.
By promoting the use of the seeds and the powder, she creates employment, prevents waste of valuable foodstuffs (that would perish when the rains start falling), contributes to international health food options and promotes the value of THE indigenous African tree. A win-win-win-win situation for all and very inspirational woman!
The truth is, despite the old age of baobabs, they don't live forever, and find it difficult to reach maturity in inhabited areas. They get eaten by goats, destroyed in new developments and the fact that they take so long to bear fruit (200 years!) does not promote a commercial planting programme.
So, the scheme that Sarah has devised is a gem: our baobab guardian Rebecca (a local Venda woman) gets a small sum of money for every 30 centimeter that the baby-baobab grows in the protection of her homestead. The seedling is planted, geo-tagged and we get a yearly update of the progress of our foster tree.
In 200 years time, her great-grand children will benefit from this beautiful baobab, valuable beyond measure; this archetypal African icon, nourishing, protecting and nurturing tree."
It costs just R1900 to sponsor one baobab tree over a 3 year period as it grows from seedling to a 3 metre sapling when it can survive on its own in the wild. The donor will receive 2 progress photos a year and measurements.  For more information, or to make a donation, please contact Sarah on sarah@ecoproducts.co.za
Here is Sarah Venter with Baobab Guardian Rebecca Nenzhelele showing off her newly planted baobab tree. We are so grateful to Afke and Liesbeth for helping to create a culture of caring.
To find out more about Baobab Guardians, click on the link.
Filed under: Baobab Guardians
Tagged with: baobab guardians, baobab seedlings, creating a culture of caring, future of baobabs, planting out baobab seedlings