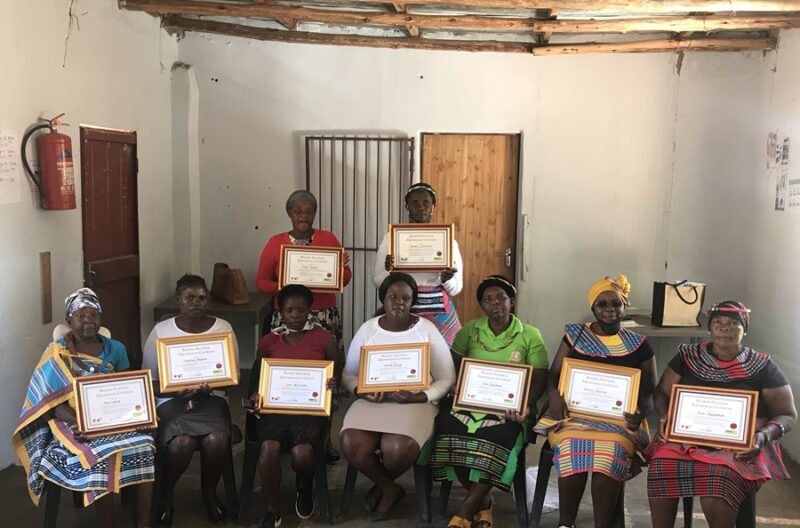 Zwigodini Village Baobab Guardians with their certificates
This November, 18 Baobab Guardians from 3 different Venda villages received certificates of achievement to celebrate the successful growing of 19 baobab trees to a height of 3 metres. This is when baobabs can fend for themselves in the wild and no longer need watering and protection from livestock and other foraging animals.
The growing process can take anything from 2 – 6 years depending on weather conditions.
We began our Baobab Guardian program 6 years ago in 2014 in Zwigodini Village and those villagers were the first to receive certificates in 2016. There are still a number of growing baobabs being cared for Baobab Guardians and they are hoping to get their certificates in a few years time.
We held our celebration in Tsdeza Community Pre-School, one of the pre-schools we have supported through generous funding from donors (see the blog).  Two officials from the Limpopo Economic Development for Environment & Tourism (LEDET) attended the ceremony:  Shavhani Neluvhola and his colleague Shonisani Sadiki.  Rerani Ramaano from the Vhemba Biosphere Reserve (VBR) also attended.
The VBR supports and endorses what are known as Demonstration Projects; these are businesses which incorporate social, community and environmental investment as an integral part of their business model. We're pleased and proud that EcoProducts and the Baobab Foundation is considered to be an excellent example of such a business.
Dambali Village is one of the last villages where we will plant our final 8 trees.   We invited villagers from Dambali to attend our ceremony and they left feeling so inspired!  Our aim is to inspire people to want to care for our environmental heritage. We'll be planting our 100th baobab tree in December. Look out for the blog!
To find out more about Baobab Guardians, click here or email Sarah Venter sarah(at)ecoproducts.co.za.
Filed under: BAOBAB FOUNDATION, Baobab Guardians
Tagged with: Baobab Foundation, baobab guardians, Baobab tree conservation, Environmental heritage, Environmental Protection