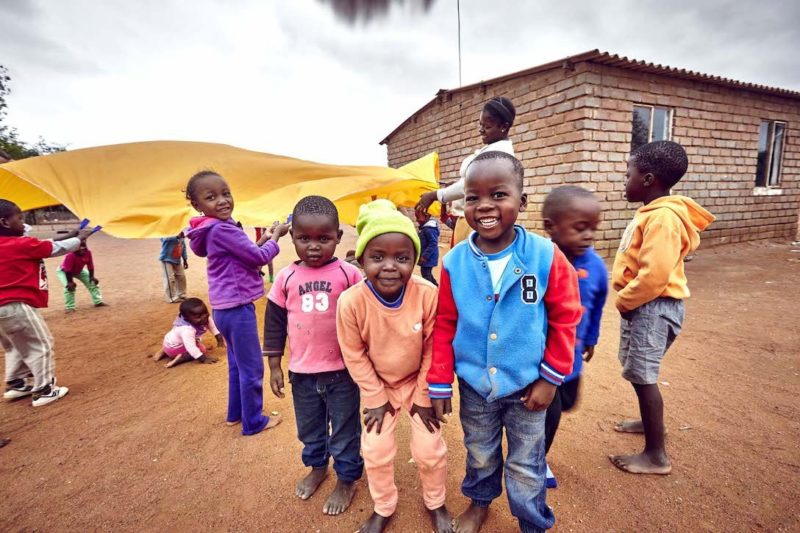 Background
The Pre-school Program identifies under-resourced pre-schools in South Africa where baobab harvesters live. The support  given to pre-schools is determined by the individual needs of each school.  Support includes providing educational toys, equipment and infrastructure as well as early childhood development training.
We've partnered with GivenGain, an international NPO whose mission is to support other NPO's such as ourselves to raise funds for our campaigns.You can contribute to our latest campaign here.
Women in rural villages are busy all day with tasks such as growing crops, trading in small goods, wild-harvesting foods and collecting firewood and water. Often, their work takes them away from the village and it's not always practical or safe to keep their very young children with them. It therefore becomes the task of one or two other village women to care for young children and so informal pre-schools are set up.
These very small children require good food, a warm, clean and cosy place to nap, toys and safe play areas – but the reality is many of these pre-schools are little more than hard concrete floors surrounded by dusty unfenced grounds and at best, an old car tyre to play with.
In addition, the women who are the carers, do not have a background in early childhood development and therefore the young children are not properly prepared by the time they get to school-going age.
Objectives
Support Pre-Schools in marginalised communities with their basic needs.
Outcomes
Support at least one pre-school in each village where baobab fruit is harvested.
Program Description
The Pre-school Program identifies under-resourced pre-schools in the areas where baobab harvesters live. The support that is given to the pre-schools is determined by the individual needs of each and includes the following:
Educational toys, Swings and Jungle Gyms
Educational toys, books, drawing materials are used for classes and to develop creativity and thinking skills. Swings and jungle gyms help children develop their gross-motor skills and provide enjoyment and fun while playing outside.
Equipment and Infrastructure
Children and teachers need chairs, tables, cupboards, blankets and lots more. Roofs, fences and windows need repairing, paint is needed to liven up walls, and basic amenities such as toilets and classrooms are often missing.
Early childhood development training
Carers or teachers require training in how to stimulate young minds and prepare them for primary school. We are working with Early Childhood Development (ECD) experts to train the principals and teachers in the pre-schools.
Please support our latest campaign by making a donation to our fund-raising partner GivenGain here.