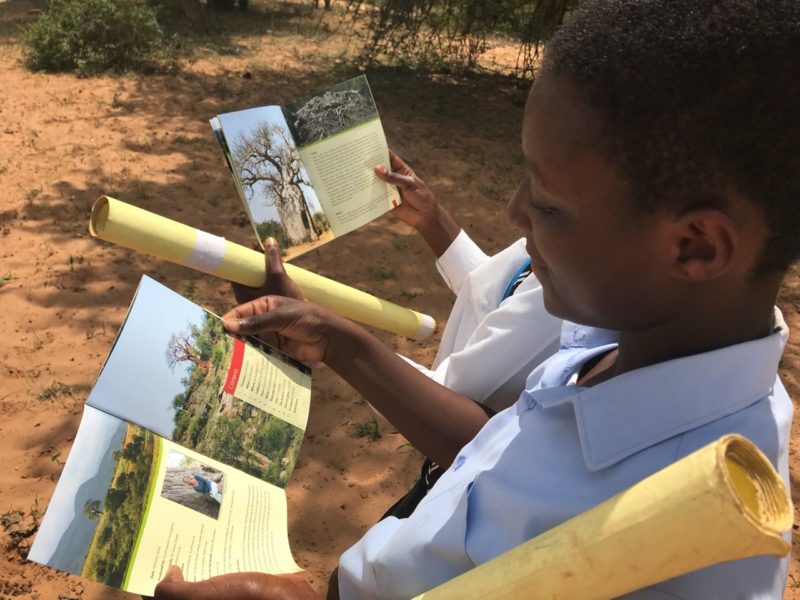 Background
The Environmental Education programme uses baobabs as an example of how conservation can be done by everyone and for the benefit of all. Young children, teenagers and adults are encouraged to see conservation as something that must start at home and in their own communities.  The baobab is an iconic tree which symbolises the health of our environment and therefore we all need to learn more about these majestic trees and how best to promote and protect them.
Objectives
Protection of baobab trees and seedlings.
Create awareness about baobab ecology and conservation locally and in South Africa.
Outcomes
Print information booklet on baobab trees in local languages and English for use in local schools, libraries, for government officials and for tourists.
Visit local primary and secondary schools to give talks on baobab conservation and disseminate baobab information booklets.
Program Description
Baobab Information Booklet
There is a huge amount of knowledge available on baobabs, but this information is inaccessible to the general public as it is mostly found in academic papers and articles. Furthermore, much of the information available on the internet is inaccurate. Thus, the Baobab Foundation has produced a well written, factual and easy to read information booklet that describes the ecology, distribution, taxonomy, uses, conservation importance and spiritual significance of baobabs. The booklet is given to the Baobab Guardians as part of their training as well as distributed to local schools, conservation and tourism organisations and community leaders.
Baobab Awareness Activities
To create a wide-spread awareness of the conservation of baobab trees, local Primary and Secondary schools are visited and Conservation Awareness events are arranged for the community, local traditional leadership and government officials.