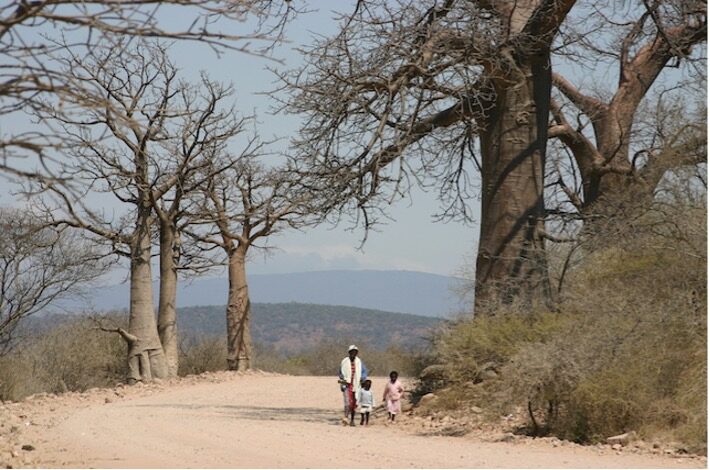 Background
The Baobab Wilding program specifically focuses on wild populations of baobabs. These are the baobabs that are found in rangelands, wildlife areas and around villages. For young baobabs the program will aim to boost the population of recruiting baobab by planting young trees into the wild and ensuring that they survive until adulthood. For adult baobabs, the project aims to identify threats and find solutions.
Baobabs are an important part of the African landscape. Their large size and shape are iconic and are a symbol of heritage. Baobabs are sacred as they enshrine African ancestors who connect our world with the spirit world. They also provide resources for both humans and the nature. People have been eating the nutritious baobab fruit and leaves for thousands of years and long before modern fibers baobab bark was used to make rope, string and to weave household items. In the nature baobabs are just as important, providing nesting sites for dozens of animals from birds to mammals and reptiles.
Unfortunately, the baobab population face a number of threats. These include clearing land for agriculture, industrial and peri-urban development, disease, pollinator survival and elephant damage to trees in protected areas. However, the biggest threat is to the survival of the population is the lack of seedlings and young trees.
Populations of animals and plants survive in a constant cycle of birth, reproduction and death. When one of these goes out of balance, the survival of the population is at risk. Baobab trees live for over 1000 years, so they seem to be an enduring part of our landscape, however unless young trees are added to the population, they will not be around forever.
Objectives
To boost the population of young baobabs in wild environments.
Identify threats to adult baobabs and provide a solution for their survival.
Create awareness about baobab ecology and conservation locally and internationally.
Outcomes
Plant 100 baobabs in the wild to boost the future of baobab populations.
Protection of adult baobabs.
Project Description
Baobab seedling nurseries will be sourced from home gardens in rural villages where local women and men will be given training in how to germinate, grow and nurture seedlings until they are 1 meter high (1 year). Seedlings will then be moved to larger nurseries where they will be grown to a height of 3 meters (2 years). Once the young trees are 3 meters high they will be planted into wild areas in nature reserves, farms and around rural villages. Each planted tree will be monitored for a further year to record their growth and survival (1 year).
Time frames
Year 1: Seedlings grown in home gardens until 1 meter in height.
Year 2 and 3: Young trees grown in nurseries until 3 meters in height.
Year 4 and 5: Planting young trees into the wild and monitored.
Protection of adult baobabs
Meet with land owners where baobab populations are found. Establish and identify existing and potential threats to adult baobab trees. Establish the severity of the threat by doing on site assessments, population surveys, ecological impact assessments and suggesting monitored solutions.